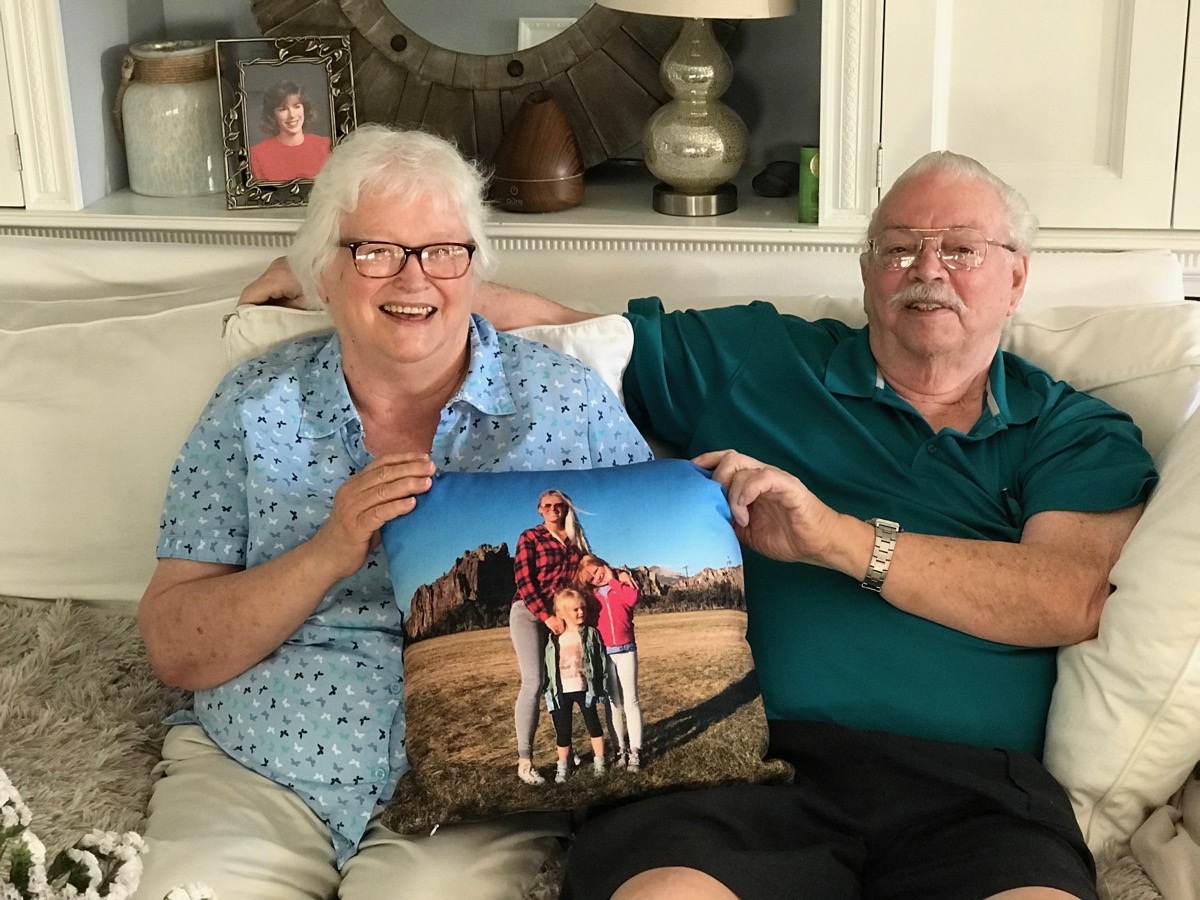 Over two thousand years ago, Greek philosopher, Heraclitus said, "The only thing that is constant is change."
And he was right. It seems that things don't stay exactly the same for long. Like a current, life is fluid, always changing. Children are proof of that, growing and changing before our eyes. But, really, that's a fact for people of all ages. Time is always ticking and pictures are the only way we can try to give it pause.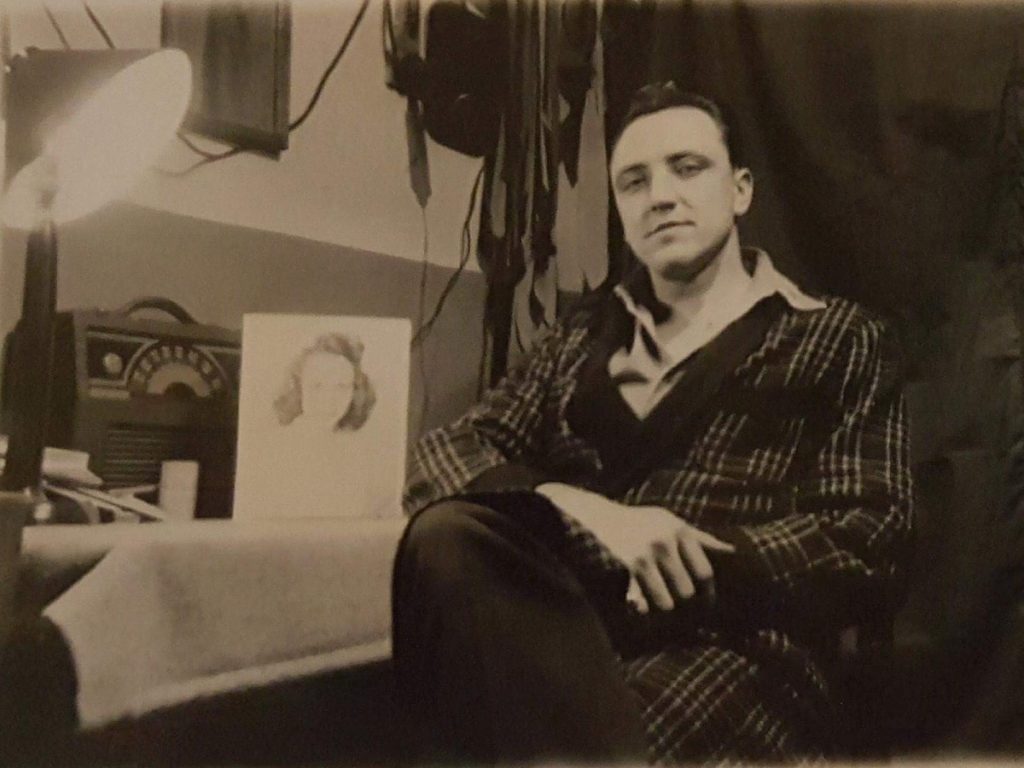 Pieces of the Past: Why We Love Old Pictures
What a gift to get to see famous paintings from history to teach us how life used to be. But with the awesome invention of photography, people could make a portrait at the speed of a shutter button rather than at the slower pace it takes to paint with a brush.
Old pictures are slices of history—a quick second captured that we have the opportunity to appreciate, learn from, and remember today and tomorrow. German photographer Karl Lagerfeld said, "What I like about photographs is that they capture a moment that is gone forever, impossible to reproduce."
That's why we all love pictures, isn't it? They show us moments in time that are gone—that we can't do over. Photographs are like timestamps. They provide quick access to an old memory and allow us to relive the feelings and emotions an image has the ability to evoke. Pictures transport us to bits of the past that we might forget if it weren't for the documenting of them. Emily Dickinson wrote, "That it will never come again is what makes life so sweet." But it's nice to at least relive those sweetest of bygone moments through imagery.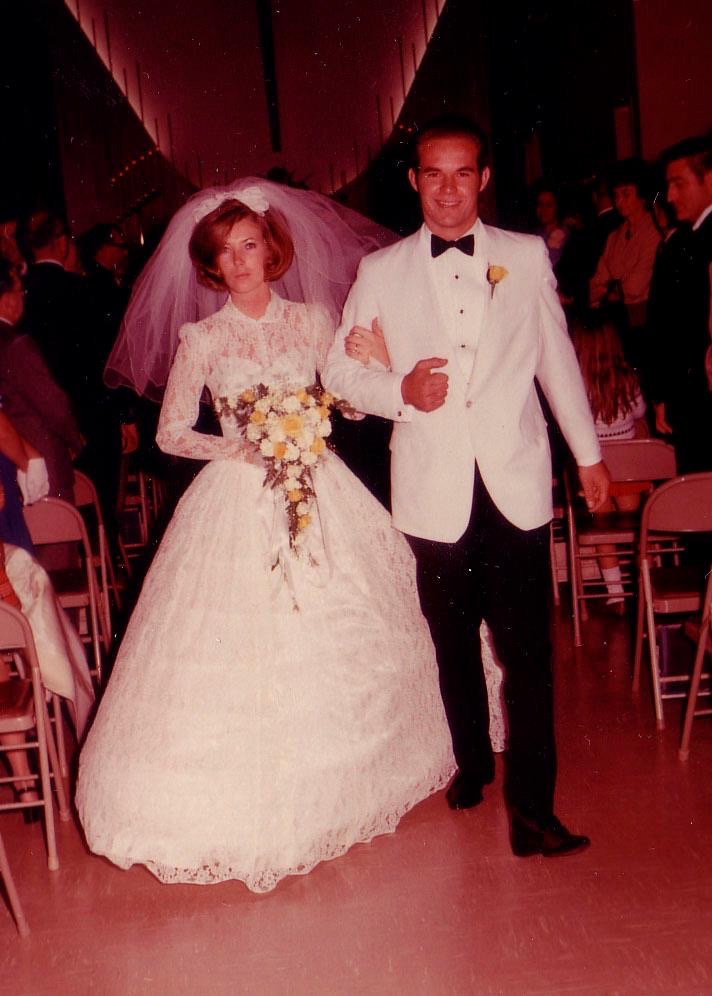 The beauty of a picture is that we can witness another time, place, event, and person, even if we didn't exist yet. History books, museums, and family photo albums house photographs that allow us to view moments from before you or me. Pictures let us see our ancestors—those who are both foreign and familiar at the same time.
Find and Print Favorite Old Family Photos
Gather your collection of family photos. You may have access to an online archive, or perhaps you'll need to scan or photograph those classic images you want to have for yourself. If you create a digital file, make sure you scan or photograph it in high-resolution so that the image is at least 300 dpi (dots per inch) so that it is big enough to print and without pixelation.
Print Options for Displaying Your Family Tree
There are numerous possible ways to savor memories from your family tree! Match your favorite family legacy pictures with several possible printing options!
Mouse Pad and Coffee Mug: Old-School Office
Perhaps your office could use a bit of retro flair? Record players, rotary phones, old luggage, and typewriters are classic pieces of furniture that may still be functional or at the very least, they make great decorations. You could always display prints of your ancestors in your office or study, and don't forget to make a mouse pad and a coffee featuring classic photos from the past.
A little boy named Donald Joseph lived on an Illinois farm in the 1920s. Here he as a young boy, sporting clothes and a haircut reminiscent of the same time-frame's famous Christopher Robin.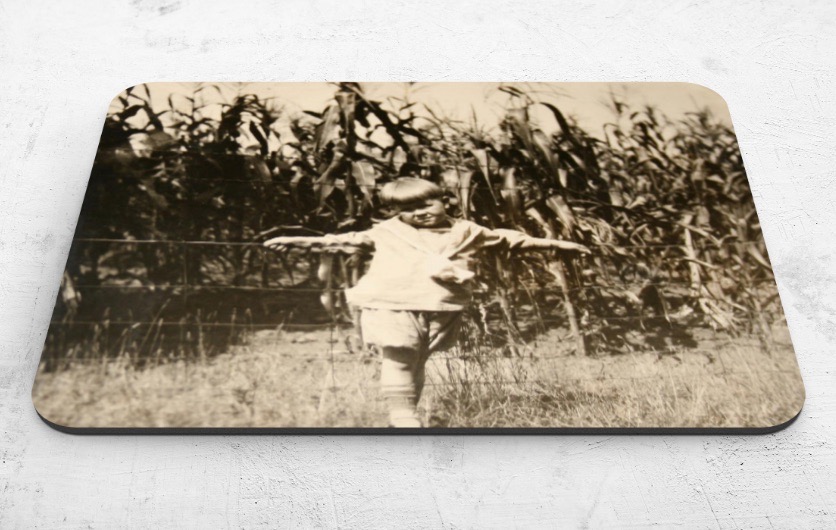 Donald has grown a bit older and is here with his arms around a couple classmates in 1927, right before the Great Depression era.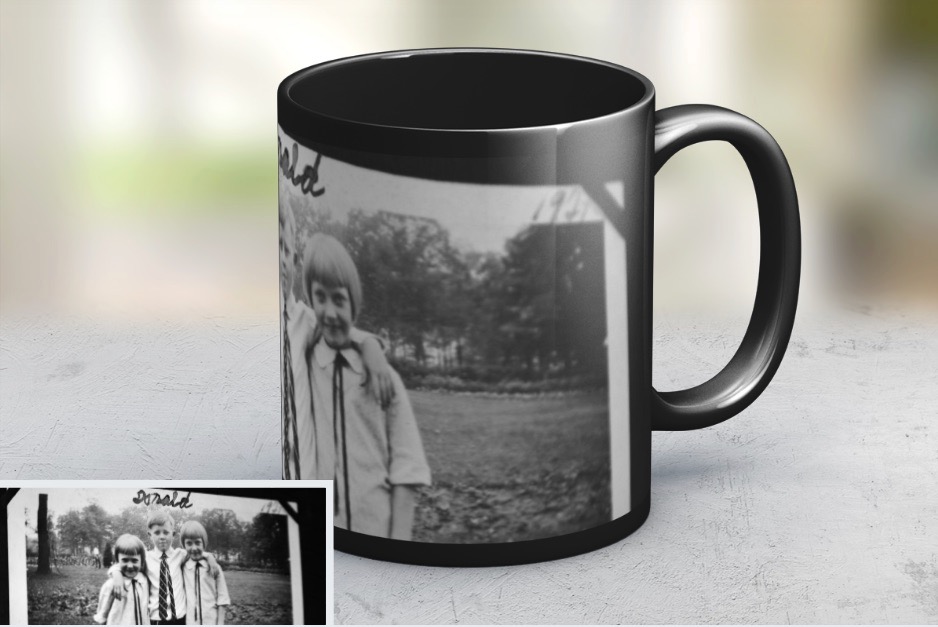 Check out thecottagemarket.com for more fun vintage decorating tips.
Metal Print: Everyday Life from Another Time
Pictures record history. Soon enough, today will be a memory, so capture moments to document life in order to remember what once was. Aren't we all glad that someone decided to snap the photographs of our relatives way back when? Andy Warhol said, "The best thing about a picture is that it never changes, even when the people in it do."
This is Donald Joseph who here is shown as a young man with his wife Anna Ellouise. This is how the image would look as a metal print: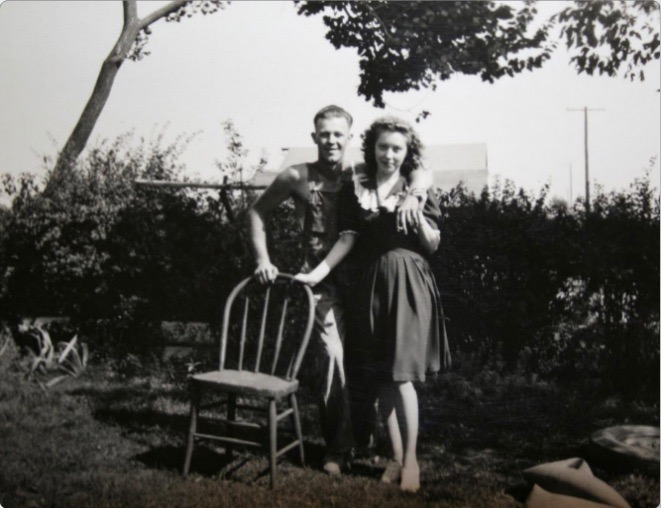 Gallery Wrap Canvas: Retro School Pictures
Find, print, and enjoy vintage school pictures of your family right alongside the ones of the newest family members. This adorable school picture is of Delores Ellouise, the second daughter of Don and Anna, in 1957 when she was seven years old. Delores still has the same kind, happy eyes over sixty years later. The handwritten script and black photo corners are nice touches to a canvas, or they can be cropped out.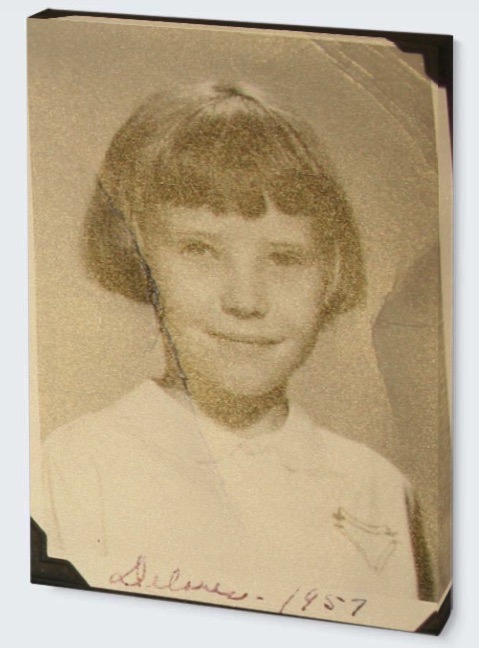 Tote Bag: Vintage Images
Old photographs document the people and the fashion of a bygone era. People love products with vintage posters featuring icons like Rosie the Riveter. This cool image of World War II fighter pilot Smith (Jay) Jennings wearing a double-breasted coat with a wayward collar makes a trendy tote bag. The retro coat looks warm, sturdy, and strong. Surely, those words describe Jay, too. Who wouldn't love showing off their handsome relative this way?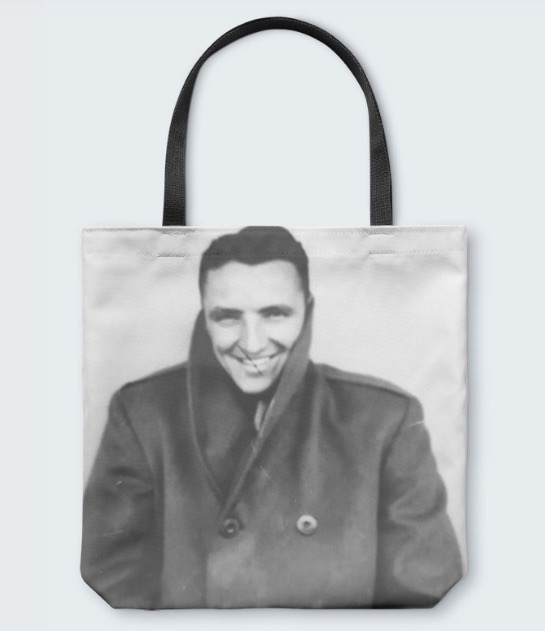 Matted Framed Prints: The Story of Who You Come From
You know how they say a picture tells a thousand words? Our walls can speak volumes. They can tell stories—stories of people…your people. They display chapters of your family story. Walls can share the story of where you and the other members of your household come from. Well, more specifically, they can show who you come from.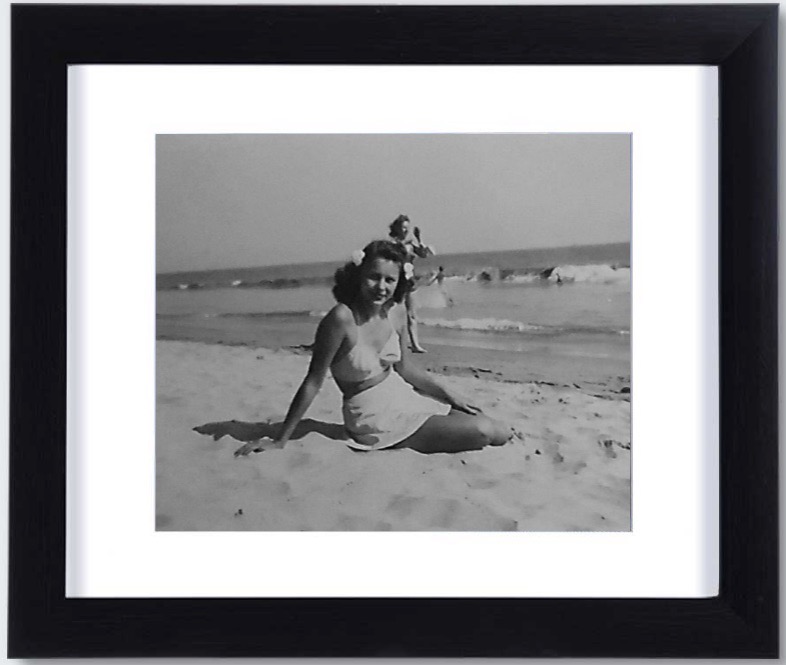 Elizabeth Avery married Smith (Jay) Jennings and their love story is that of a movie or novel! Perhaps it was Jay who took this classic image of Elizabeth on the beach.
They met when she was visiting her brother George Nock who was bunkmates with Smith (Jay) Jennings Meador since they were both fighter pilots in World War II. When Jay and Elizabeth met, the rest is history! And that history is definitely wall-worthy.
Smartphone Case: Retro Images on the Go
Smith (Jay) Jennings' air force picture adds a perfect retro irony as a phone case, plus it would keep the memory of family and heritage nearby in anyone's busy, modern technical life. Plus, what a conversation piece—two ways…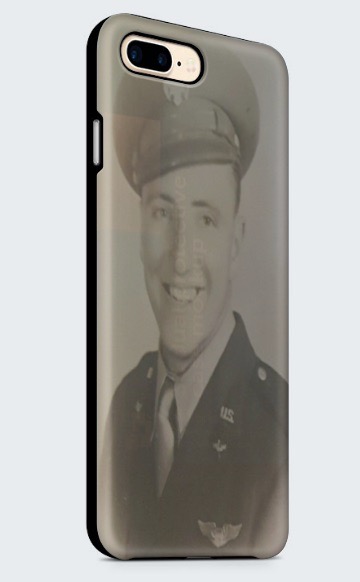 Pillows: Vintage Wedding Photos
Married couple Marilyn and Dale are holding a pillow displaying their wedding picture from 1968 before Dale left for the Vietnam War. Happily, they have children who now have children, so they've created quite the legacy. And the whole family benefits from the joy of this lovely image full of love and the excitement of the possibilities ahead of them.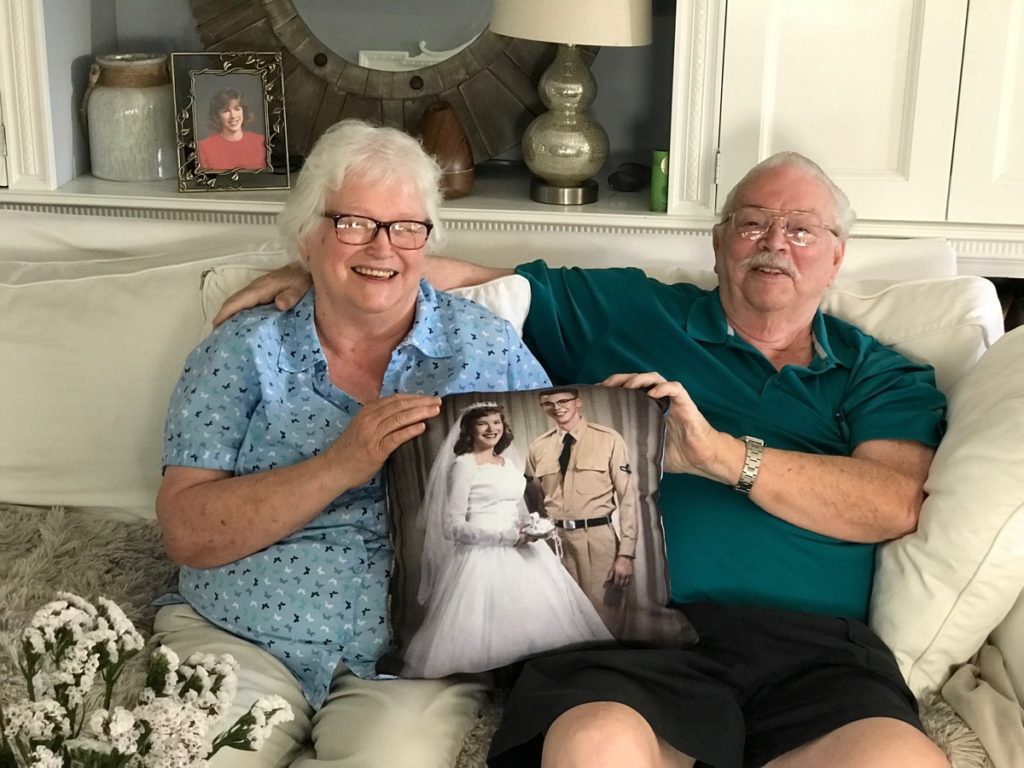 On the back of this pillow is a picture of their granddaughter and great-granddaughters, so it's like a pillow that comes full circle.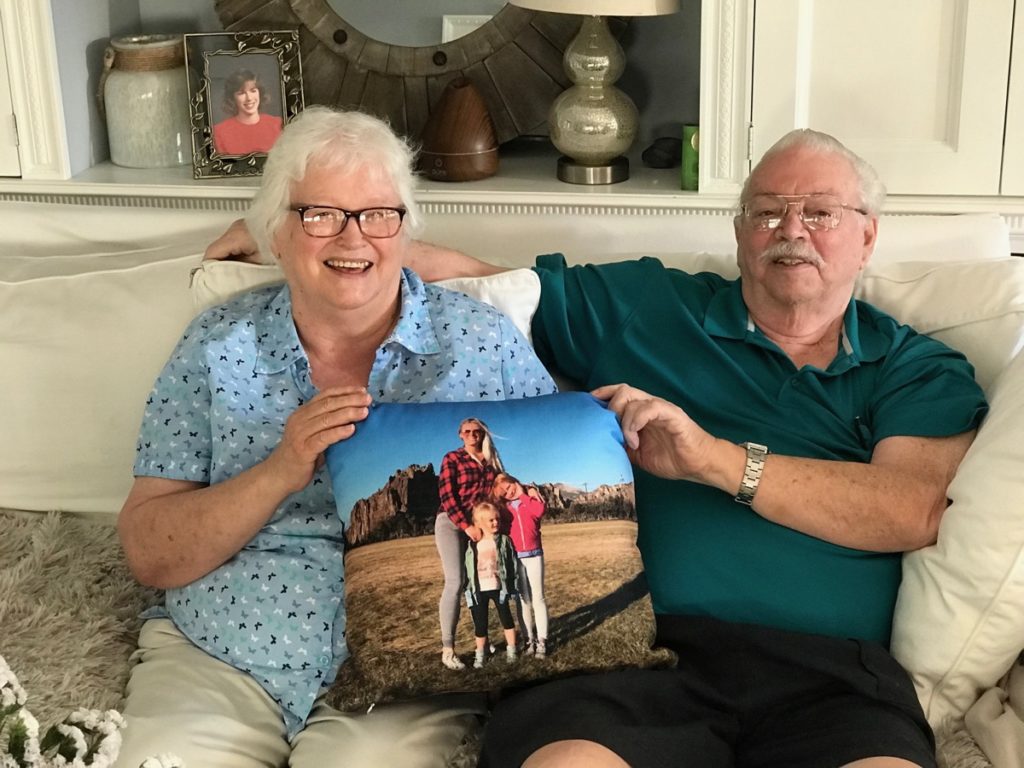 Arranging Pictures of Your Family Tree on the Wall
Pictures are a lovely way to display your family tree. They will help you remember where you came from and perhaps they will help to guide, encourage, and inspire you, too.
Maybe you have a simple classic taste or maybe it's more retro and funky. Find a wall that needs art and use your past family photos to make a display of your family history. Make canvas, wood, or metal prints—whichever suits your personal style. Add artifacts or words, too, if the creative flair strikes you.
The Martha Stewart website shares a slideshow of ideas on arranging family photos from the selection process, arranging, framing, and hanging.
The passing of time reminds us we need to enjoy each day. Savor life today with the click of your camera to look back on later. Someday the moment your capture and freeze forever may be considered a family classic!
Keeping the past present can be the sweetest proof of change.