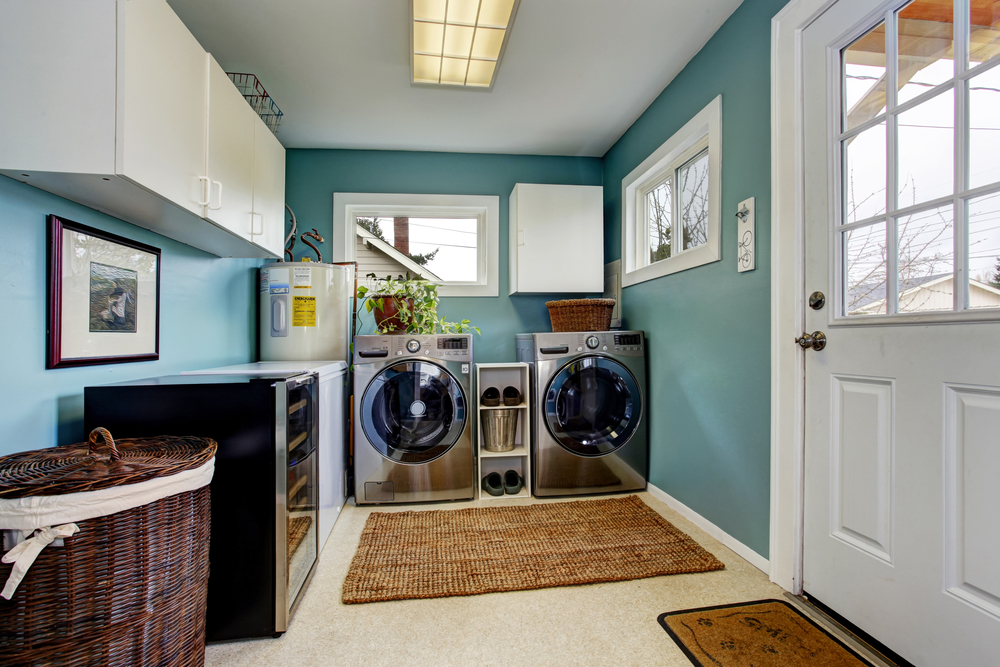 Your laundry room should be a place of organization, cleanliness, and tranquility. Whether it's your spilled coffee, grass stains, or today's school lunch that's sprawled all over your child's favorite overalls, the laundry room is what cleanses the day away. It's important to make your laundry room more than just a chore room, it should be a place where you can throw your 'oopsie daisies' away and know that everything that comes out from that room means that tomorrow is a fresh start. Here are some fun decorating ideas to make your laundry room unique, comfortable, and special to your home.
Give Your Lint Some Purpose
Create a DIY lint bin to mount on your wall. Pick up a small flat-sided trash can from a department store, paint it a color that matches your laundry room, and hang it up on the wall. This bin is strictly for lint only. Why? Because you can repurpose your lint! In the winter months when it's nice and chilly outside, use your lint from the week as fire starting material in your wood-burning stove. Not only will you have a cute lint bin in your laundry room, but you'll also have a cozy fire to enjoy after your laundry is finished!
Display Your Cute Ironing Board
Use two coat hooks to hang an ironing board. This is a great space-saver idea if you have a tiny laundry room! Mount the hooks onto the wall, paint them a color that matches your ironing board, and hang your board on the hooks. This gives you easy access to your ironing board as well as covers up empty wall space.
Hang Up a Door Rack
What's accurate for other small rooms, is also accurate for small laundry rooms; doors offer storage space. Use a simple door rack to keep all your laundry room items organized and in one place. Find a rack that has lots of shelves so you can store detergent, fabric softener, paper towels, and other cleaning supplies. This will help to make your laundry process quick and simple.
It Needs an Accent
Decorate your laundry room an accent wall. Pick up some cute and colorful wallpaper then paste it onto the wall that has your washer and dryer against it. This will give the room a fun pop of color as well as inspire you to create some other colorful ideas to add to the space.
Find Your Sock's Partner in Crime
We all know that our washers and dryers like to eat our socks and then spit them back up on a different date. Create a clothespin hanger on your wall that holds singled out socks. This is a great way to not lose both of them and a reminder to keep your eye out for that mysterious missing one.
Mason Jar Dispenser
Laundry soap containers are so big, heavy, and awkward! They also don't look very flattering in your styled out laundry room. Pick up a few mason jar dispensers that are normally used for drinking water or lemonade. Label them with a chalkboard label and fill each one with detergent, softener, and bleach. This is an easier way to access your cleaning needs as well as adds a cute flare to your laundry room.
Keep The Change
Coins are always being shoved in our pockets at the checkout line. It's human nature to forget that we most likely have a handful of coins in our back pickets by the end of the day. Then, they end up in the washer and all we can hear is the clatter of metal spinning around with our laundry. Put a piggy bank in your laundry room for all that loose change! Not only is this a good reminder that you may have some nickels and dimes in your dirty laundry, but it's also a great way to save up a little bit of lunch money.
And of course, a little bit of wall art always helps. Check out the great deals on our canvas, metal, and wood prints to compliment whatever laundry room decor ideas you decide to go with.