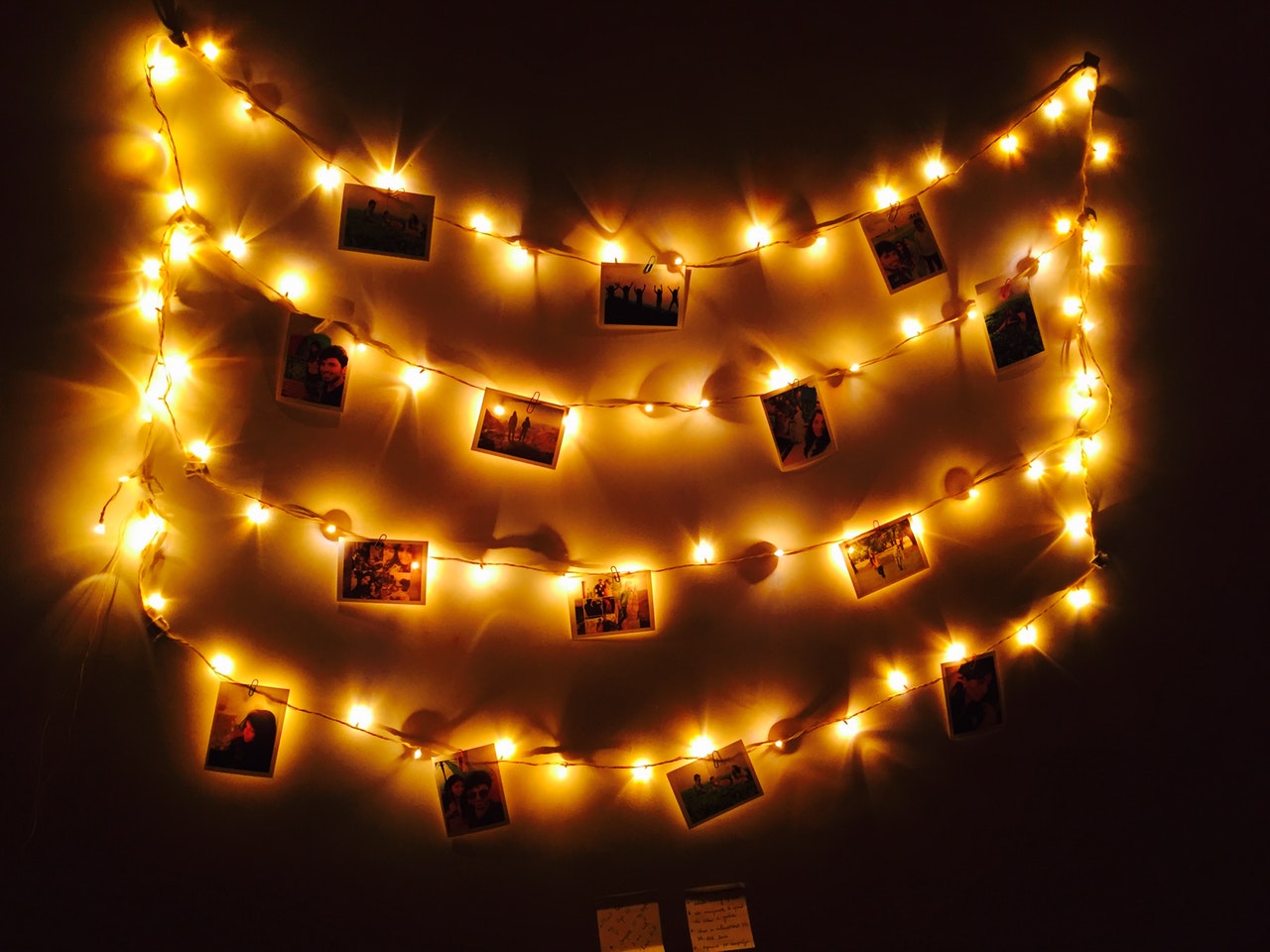 When it's time to fill wall space in your home there's nothing better than filling it with pictures of your favorite memories. And there are so many ways that you can organize your photos to either create a collage type of wall or a unique design. Not all of your pictures need to be in frames either because there are lots of ways to hang them on your wall using techniques other than a hammer and nails. Check out these 11 ways to create a photo wall in your home.
Hang Them Like Laundry
After having your pictures printed, use twine and clothespins to create a display of hanging photos. Pin both ends of your twine onto a wall and evenly clip each picture across the "clothesline". You can either have one single line of photos or you can layer multiple lines above each other giving you more space to share more memories.
Create a Design
Using photos of your choice, create a design with them like a heart, spiral, or a letter. Lay your design out on the floor and once the photos are in the order that pleases you, tape them gently together so they all become one. Then, you can mount your design on the wall using either putty, tacks, or two-sided tape. This is a nice, clean way to present your photos and a creative look for a blank wall.
French Door Collage
If you don't have an old french door laying around, check out a local antique shop or a DIY home center. Once you have your hands on a cool, rustic door, take measurements of the glass windows within the door. Have photos printed to match those measurements and gently paste the pictures onto each glass window. You'll have yourself a unique collage of photos that are naturally framed by an up-cycled french door. This is an excellent addition to your home and a great way to use up empty wall space.
Metal Art
Metal prints are beautiful alternatives to standard photo prints. They look great on accent walls because of their shiny surface, which makes the colors pop. A fun way to utilize metal art is to collect a series of headshots of each of your family members. Have them printed on square sized metal and arrange them in a way that complements the wall space that you're using. This is a fun project and beautiful way to display family portraits.
Design A Family Tree
A gorgeous way to show your family history is by utilizing a large wall in your home for a family tree. Have the artist in your family paint a mural of a large tree with widely spread branches. Once the paint is dry, hang framed portraits of family members on the appropriate branches. You will be sure to have an eye-catching work of art in your home and a sentimental mural that tells the story of how your family has developed over the years.
Collage Wall
A college wall is great for any type of pictures, but specifically your Instagram photos. Have your photos printed in squares and spread them across a wall in a college type format. If all your pictures don't cover the wall completely, don't sweat it! You know that you have many more memories to capture in the future so you can continue adding to the collage wall.
Wooden Prints
If you're looking for a more rustic feel to your photos, consider having them printed on wood. Wooden prints look great in living rooms above the fireplace or in a farmhouse style kitchen. They're such a unique way to display your memories and add rustic charm to your home.
Print Out Your Travels
While wallpaper is not as popular these days, it's still possible to find some cool designs that just may be what your empty wall space needs. Go on a hunt to find wallpaper, or a huge poster, that shows the map of the world. Spread it out across one of your walls and use that space to display all your travel photos. You can tape your travels to the appropriate place that you visited, or you can simply use that wall as a general backdrop for a travel collage. A traveling wall is a fun addition to your home and an excellent conversation starter when you have house guests.
For Your Sunroom
Sunrooms are blessings to have in your home. It creates an indoor and outdoor space all at once. While it's popular to decorate your sunroom with hanging chairs, day beds, coffee nooks, and out door furniture, it's also nice to find unique wall photos for such a unique room! A fun touch to add to a wall in your sunroom is a collage of pictures of plants. Yup, plants! Use a Polaroid camera and go on a photo hunt for all different types of greenery and flowers. Snap pictures of them and then using hemp rope, hang the pictures up across a wall. This fun project creates a polaroid accent wall for your indoor and outdoor space and shows off nature in a whole new way!
In Your Child's Playroom
If you're looking to change up your kiddos playroom and make it even more unique to their personality, consider creating a portrait wall of your children making all types of silly faces. This is a hilarious and different way to decorate their play space. Take close-up pictures of them from only the shoulders up and have them create as many funny faces as they possibly can. Once you've gathered your desired amount of photos, print them out and frame them with simple, black frames. Mount them onto the wall in a grid-like format so all the photos cover the wall entirely. You'll find yourself standing back and admiring your kids and their goofy selves. Plus, you'll have great photos to show them once they're all grown up!
For Your Home Office
It's easy to get caught up in work and forget the reasons why you put away so many hours in the office. Create a photo wall in your home office to remind you that all your hard work always pays off. Find photos from family vacations, the picture of you and your brand new car, you and your spouse standing in front of your first home together, and your children's college graduation pictures. Put all those moments together and create a memory wall. Whenever you're feeling overwhelmed and frustrated with work, this collaboration of pictures will be the breath of fresh air for you to stop and remember all those hard-earned moments.