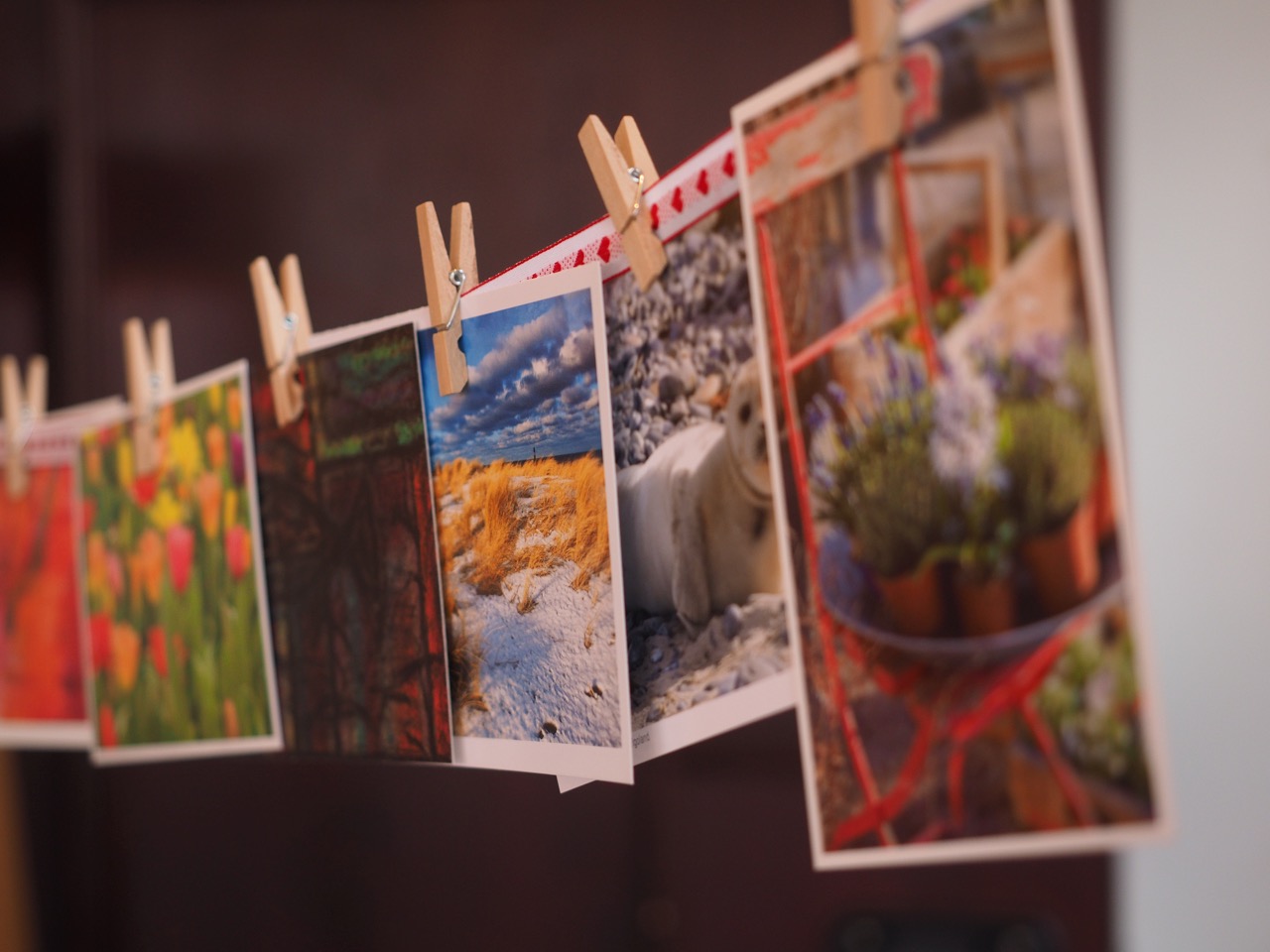 Instagram is a great app that takes even the most basic pictures from your day to day life and turns them into memorabilia. Not only are they fun to share with friends through social media, but they're also great to display in your home. Who would have thought that taking simple cell phone photos could be transformed into miniature works of art on your walls? Here are 10 fun DIY decorating ideas to show off your Instagram photos in your home!
Tape and Frame
With a few fun colors of washi tape, and an empty, glassless picture frame, you can make yourself a creative collage that sits nicely in a picture frame of your choice. If you want to add more color to your photos, glue them onto colorful construction paper to give them a bright border and help them pop.
Celebrate with Bunting Flags
Print out your favorite Instagram photos onto cardstock and cut them into bunting flags to use as celebration decoration. Behind each flag, attach yarn, twine, or ribbon with tape and hang them up to decorate for a party. If the party is for a specific person, be sure that your photos are memories with them that they can take home at the end of the night.
Hang Them
Hang your snap shots on your wall with a rod and string. You can cut the string into different lengths making your photos staggered along the wall, or you can keep them even, giving them a clean look. This is also a great idea to hang above a child's crib to act as a cot mobile.
Map Them Out
On Instagram, you can tap on a map and see all the different locations around that world that you posted photos from. Each location is marked by the series of photos that you took while visiting there. You can replicate this in your home! With a large map of the world hanging on your wall or placed under a glass coffee table, print out all your traveling Instagram photos and paste them onto the states and/or countries that you took them in. This is a fun way to remind you of all your past adventures and motivation to keep them coming.
Make Your Own Calendar
Personalize a calendar by taping your Instagram photos onto birthdays and holidays. Make it a bit of a challenge by trying to pick out specific photos that apply with each holiday or birthday that's coming up.
Make Them Into Polaroid Magnets
Give your refrigerator a blast from the past with mini polaroids. After printing out your Instagram photos, use white construction paper to cut out polaroid frames to paste onto your photos. Then, glue the polaroid onto cardstock to make it sturdier and attach a magnet to the back. Tada! You have personalized magnets on your fridge!
Clothespins
Pick up a pack of mini wooden clothespins from a craft store, paint them your favorite colors, and use them to hang up your photos. Stretch a fishing line from one end of the room, to the other, stringing the pins along the way. Once the line is secured across the room, clip your photos onto each of the pins. This is a fun way to decorate a play room or your child's bedroom.
Turn Them Into a Curtain
Using a tension rod across a bedroom doorframe or closet, tie pieces of twine onto the rod and let them hang straight down almost touching the floor. Punch tiny holes into the tops of your photos and string multiple photos onto the twine. Space each photo to your liking and secure them to the twine with washi tape. You'll have a curtain of memories to walk through each time you enter your bedroom.
Make a Shape
Organize your Instagram photos to make a shape on your wall. Shape them into a heart, circle, triangle, or even your initials. Attach a small amount of wall putty to the back of your photos and get creative with your shape. Before you know it, you'll have a giant letter or symbol on the wall filled with lots of tiny memories.
DIY Flip Book
A great idea for a new coffee table book, is a miniature flip book filled with all your favorite Instagram moments. Punch double holes in a stack of Instagrams and connect them with binder rings. If you chose to give this as a gift to your adventure buddy, make it extra personal with a stamped message on the front.
View our Instagram products where you can print your favorite social media photos on a mug, metal, and canvas.