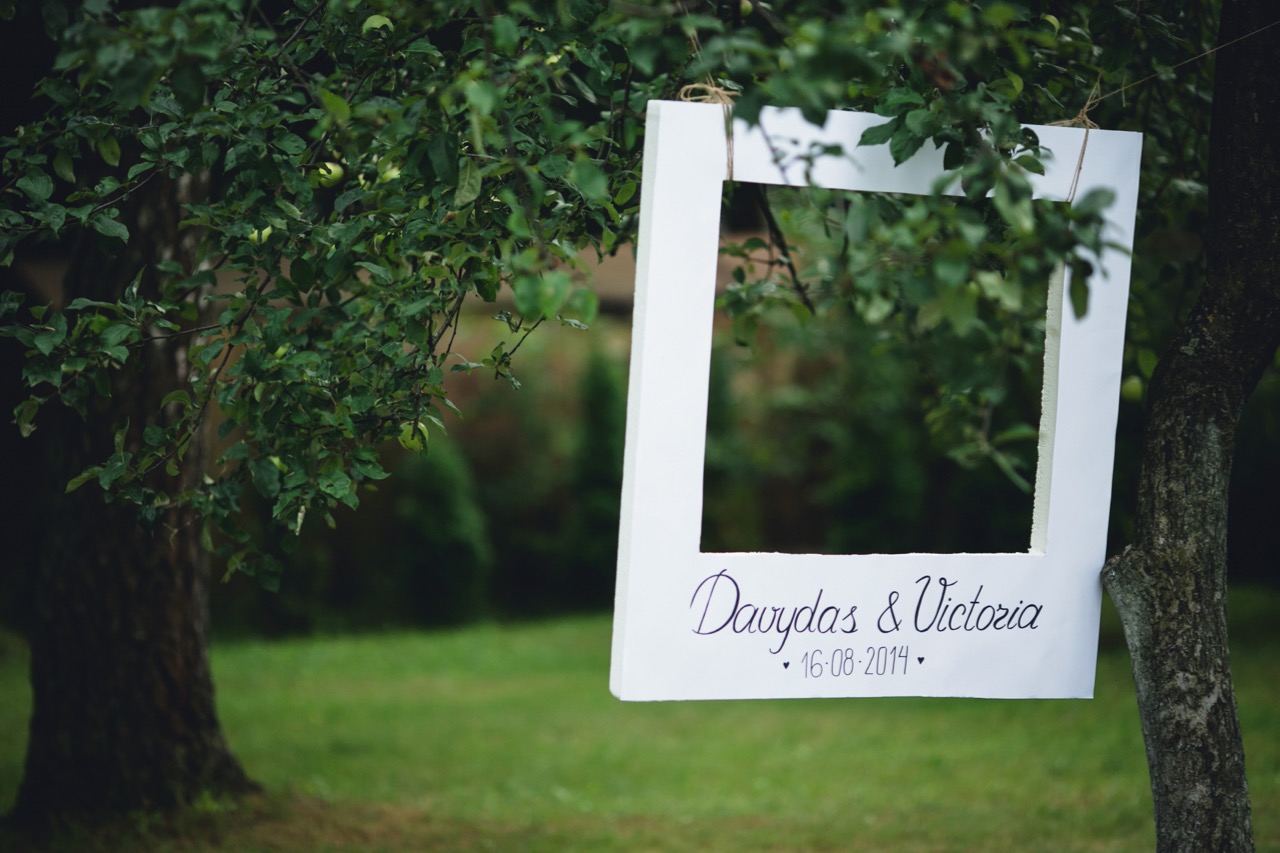 Whether you're attending or planning a wedding, birthday party, baby shower, or a family reunion, there will most definitely be tons of photographs of the celebration. A great idea to spice up all the picture-taking is by setting up a photo booth and/or props that guests can use in their photos at the event. Crafting a giant polaroid frame prop is a great way to not only give images a cute and creative look, but it also serves as a frame that can state what the celebration was all about. Here are a few ideas on how to use a big, DIY polaroid frame for special events.
Wedding
Maybe the best part about going to a wedding is the party that comes after the ceremony. Without a doubt, there will be many photos taken throughout the event and what better way for the people to remember the day than by putting it onto a giant polaroid frame? Decorate a frame along with the theme of the wedding, or keep it a simple white, and at the bottom creatively write the bride and groom's name along with their new anniversary date. This is a great prop for a photo booth and something that can be passed around throughout the reception. These photos will be enjoyed by both the attendees of the wedding, as well as the bride and groom as a souvenir of this special day.
Birthday
If you're about to celebrate a sweet sixteen or a long-awaited 21st birthday, it's important to capture the party though photographs. Creating a birthday themed polaroid frame for all your friends' group together it is a fun way to take photos. Decorate the frame with streamers, confetti, a whole lot of glitter glue, and of course, the birthday boy or girl's special date. You can also make a frame for mom and dad's 50th birthday or even grandma's 80th birthday bash! These photos will bring back memories of this night of fun in a unique way.
Reunion
Polaroid frames don't always have to be a specific theme. Sometimes you just might want to plan a spontaneous BBQ or picnic in the park with a group of friends and family. One idea you can explore turning the polaroid frame into an Instagram theme with a geotag of the party's location at the top and a caption of the party at the bottom. Draw emojis that go along with your occasion and with a blue marker, write hashtags next to your caption. This is a creative and silly way to "Instagram" your photos, making your reunion more memorable for everyone.
Graduation
It's always an exciting and rewarding day when you or someone you love graduates from some level of school, and a large polaroid frame is a great prop to bring to the graduation party for pictures. Paint the frame black and sprinkle lots of gold glitter on it, or even paste a graduation cap and tassel onto the frame to add that extra personalized touch. On the bottom of the frame write the class year in a fancy font, and even add special accomplishments, awards, or the degree and date. This polaroid frame idea isn't just great for the post-grad festivities but it also makes for a fun photo that can be used for graduation invitations. You can even design custom graduation cards for your grad with the photos, design your own custom stationery or photo card to create yours. Graduations are so stressful and crazy, that this is a really simple way to make sure the important memories are captured in a really unique way.
Engagement Frame
Becoming engaged is arguably one of the most exciting moments in a couple's life. Today's generation utilizes social media to announce big events like an engagement to all of their friends and family online. Instead of captioning your social media photo with a statement telling the news, create a polaroid frame with the announcement written on the bottom. You can either write the traditional "We're engaged!" onto it, or you can announce it with your wedding date on the frame and let everyone figure out the surprise for themselves. This polaroid frame can also be used for an engagement party that's decorated to match the theme of the wedding.
Travel
A fun ritual to do while traveling is to make miniature polaroid frames that are covered in maps of your current location. If you're standing in front of the Taj Mahal, take out your frame with a map of Agra, India in it and snap your photo with one of the 7 wonders of the world in the background. Or if you're standing at 1600 Pennsylvania Ave, use your Washington DC polaroid frame and get a photo with the White House behind you. This is a creative way to capture your travel memories and are also great for scrapbooking. Because making these frames is so cheap, you can make multiple copies without breaking your bank, so you have one for each significant place on your trip.
First Day of School
Documenting a child's first day of school is usually a ritual that most parents enjoy, and most kids roll their eyes and get through it. Instead of just snapping a typical photo of your son or daughter in their new clothes and backpack, add an extra prop with a polaroid frame. On the bottom of the frame, write the date and grade they're entering and have them hold it up while you capture their next step in education. This is a fun and nostalgic way to not only look back and see how your child has grown over the years but to embarrass their future significant others with what Mom "made them do."
Holiday
Whether it's Christmas, New Year's, Thanksgiving, or Halloween, create a polaroid frame that shows off the holiday. Paint the frame with appropriate colors and decorate with a holiday-themed design. These frames are perfect for holiday parties, capturing your children in their Halloween costumes, or the family holding their Christmas gifts. If you're making one for New Year's Eve, capture your New Year's kiss while standing behind your NYE decorated polaroid frame. No matter what the holiday is, these props are a fun and extremely easy addition to your holiday photos.