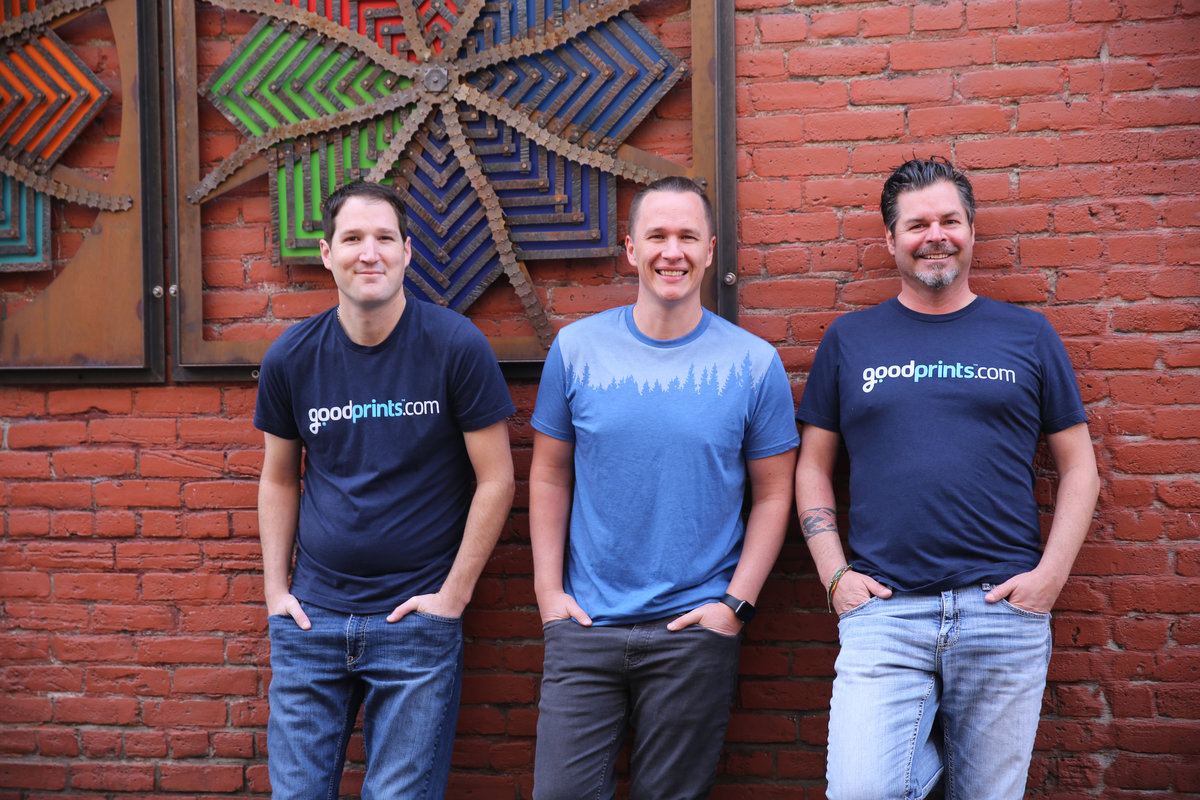 LOCAL COMPANY CREATES A BUSINESS MODEL WITH HEART
Article by Cheryl Parton at Bend Lifestyle Magazine
If companies could be heroes, then local business Good Prints is wielding the superpower of giving. Founder Christian Rea has always been a dreamer, but as an entrepreneur and father to two young children, there was a moment his thinking crystalized into action. "At a certain point in your career, you ask yourself the legacy question," he says. What would be his lasting contribution to the world to make it a better place?
He hopes his company Good Prints, with its beginnings in 2018, can contribute to a mission of creating legacies by using photography twofold: to help others to tell their stories with printed photos and to help nonprofits build a better world. As a self-proclaimed "Partner for Good," the company gives ten percent of all profits to a curated list of regional and national nonprofits in the area of children's health and healing, environmental causes and therapy, such as Capes and Crowns.
Christian is no stranger to the power of photography. Born and raised in Oregon, he moved to Rochester, New York, birthplace of Kodak, where he worked for Fuji to learn archival technologies. Rea was part of the revolution of one-hour photo labs and launched ground-breaking technology to retailers such as Walmart, Walgreens, and Ritz & Wolf Camera. An entrepreneur at heart, he moved back to Oregon in 2013 with an eye on the rapid rise of digital imagery. Americans will take more than 1.2 trillion photos in a year according to InfoTrends statistics. However, while we have never taken more photographs, most are in digital form seen only on smartphones or social media, with no printed records. While the number of 4×6 prints is in decline, the quality of photography, printing processes and even paper selections has improved. Good Prints hopes to be a partner in storytelling that lasts by taking images out of a phone and bringing them to life by using the collective expertise of the Good Prints team to provide professional-level printing at consumer prices. To entice and expand the ways photos can make the leap from digital file to a customer's hand, Good Prints provides unique products — from acrylic, metal and wood prints, to pillows, blankets, duvet covers and mugs— that elevate an image into art.
To bring the Good Prints story to life, Rea enlisted fellow creatives Tor Naerheim and Jordan Sofro. They envisioned building a cause-based company that would promote hope and joy. As a B Lab, a designation for companies en route to becoming a certified B-Corporation (Benefit-Corporation), Good Prints is part of a rising tide of commerce that sees business can be used as a force for good. As their company increases their success, they are able to increase their own impact by giving more back to the community. "Helping people tell their stories is the best job I could ever imagine," says Christian. "If Good Prints can help promote amazing agendas of beauty and hope, we will all be better for it," he says, "We print joy and celebrate the people that create it." GoodPrints.com
Good Prints was founded with the mission of inspiring the world to do more good with their photos. The company gives ten percent of every order to causes that matter, whether fighting disease, helping kids, animals, or the environment. During their checkout process, customers select the nonprofit that will benefit from their purchase from a list of both local, regional and national organizations including:
+ KIDS Center
+ Doernbecher Children's Hospital
+ Capes & Crowns Foundation
+ Knight Cancer Institute
+ Healing Reins
+ POW (Protect Our Winters)
+ EarthJustice
A goal of Good Prints is to bring photographs out of their digital format to create lasting memories with unique products, from blankets, beach towels and duvet covers to large-format canvas and giclée prints. Some of their professional-level options include:
1. Prints on Metal One of the best ways to personalize your photos and make the colors really pop is to print on metal. Sleek metal art prints have a glossy protective coating offer a flair of unique vibrancy.
2. Framed Art Frame memories in modern black frames. Your photo is printed on long-lasting Fujicolor Crystal Archive matte paper. From there, the print gets inserted into a contemporary black frame with a choice from matted options.
3. Mugs and Drinkware One of the easiest ways to create a personalized item is to print a favorite photograph on mugs for a perennial gift-giving favorite.
4. Acrylic Prints Images are printed onto optically clear digital-grade acrylic measuring .22″ thick. This museum-quality product displays images in brilliant color.