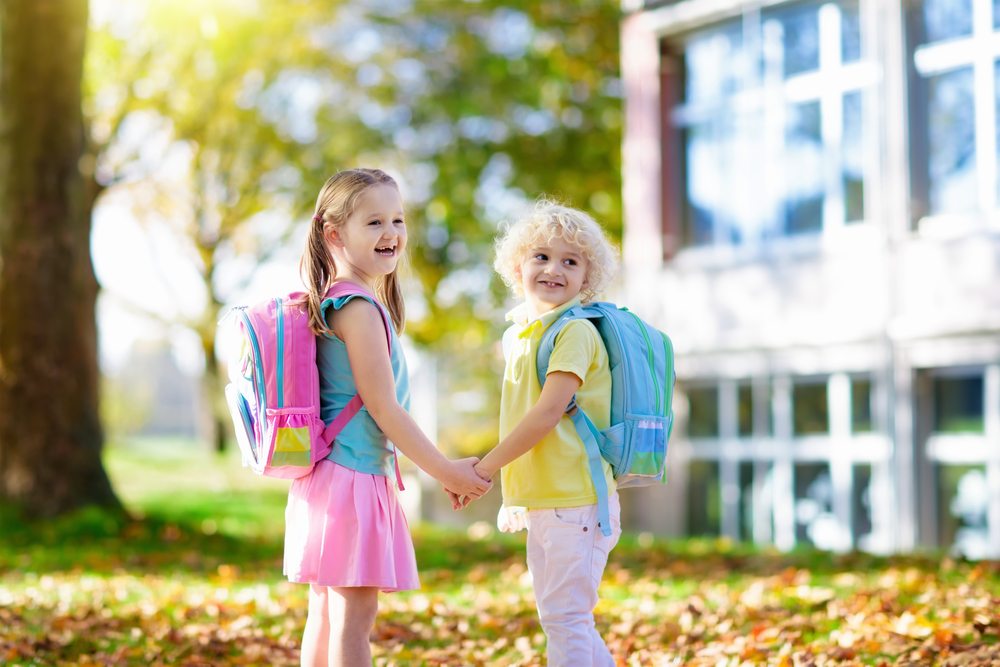 Summertime means camping trips, vacation, staying cool, and hopefully relaxing, but what about all your children's work that has traveled home in backpacks during the last school year? Is your counter and desk piled up with worksheets and art projects? Or, have you stashed them in a box somewhere out of the way? And what about last year's school pictures and all the images you snapped over the year — the ones of your child and her friends, the ones of the times you helped out in the classroom or joined in on the class field trip, your child's birthday party in his classroom, or the class play?
Why not take (or make) some time this summer to also get the past school year(s) organized and prepare for more memories that await you ahead? No matter the age of your kids, wouldn't it be great to get it organized or to have a system in place to set you up for success and ease for the future? Even if you're a little behind, it's never too late to get the memories in order to enjoy for years to come!
As a memory keeper myself, here are some of the best ways I've found to keep track, organize or get rid of excess paper clutter an to keep what really matters. And by setting up a system to savor the best memories, you can spend more time together—and that's what ultimately matters, right?
Develop a System for Organizing School Papers
I've always been a bit of a paper stacker, and as a sentimental spirit, I have a tendency to save too much. My daughter is four and I know soon we'll be inundated with papers she will bring home. Happily, I discovered Jennifer Jones, an inspiring blogger and organizing enthusiast from I Heart Organizing who suggests these five steps to organize the workflow of your child's school career.
Create a workflow for the paper that needs to be dealt with soon by you, the parent, such as permission slips or ones that need a parent signature. Have your kids put things you need to review on the dining table so that you will see them before dinner and then be sure to return them your child's spot at the breakfast table by the next morning.
Create a personal workspace for each child to do homework where he can also keep reading logs and study guides. Don't forget to decorate the space with a family picture!
Assign a holding zone for papers that are action items or that need to be referenced later, such as schedules or things to make decisions about. This should be reviewed weekly to avoid forgetting them or leaving them there for too long.
After art projects have been displayed at home on walls, bulletin boards, or hanging lines, file the memories for each school year and for each child in file folders. Organizing blogger Jennifer Jones kindly provides links to free file folder labels and cover sheets she created with a space to affix a school picture. Just print and start personalizing your own memory organization system that your kids will enjoy looking at over the years.
Back up everything digitally just in case the priceless physical memories are ruined (Dropbox, Google Drive, Google Photos, and Amazon Prime are great options). Scan those papers and store them digitally, or take photos of your favorite art pieces that are too large to store.
Here are Jennifer's general rules for items she chooses to keep and store:
A milestone pice (handwriting, new math skill, growth, etc…)
Writing that wows or takes you by surprise
Important tests/test results
Report cards
Awards/certificates
Letters home from teachers/staff (both the good and the bad)
Meaningful artwork
Disperse Traditional School Pictures
Every year, school portrait companies set up temporary shop at schools across the world to capture the faces of innumerable students in assembly-line fashion. Sometimes formal, sometimes cheesy, sometimes fake, sometimes awful, and sometimes perfect, school pictures are memories that get better with time.
Are you thinking of a classic school picture from your past right now? I am. In 1989, I was in the fifth grade and I had a half side-ponytail on top of my head with a pink rubber bendy wrap. Match that with oversized glasses and it's a 1980's Halloween costume!
School pictures show styles and fads that will likely fade over the years, and these pictures are classic moments to look back on years from now. The school picture of your child is one you may frame for your wall, or mail off in holiday cards, and keep in a scrapbook. It's also a great thing to use for identification on memory files for every school year (as discussed in the first idea above)!
Interview Your Child Every Year
An annual interview is a fun thing to do to see if any preferences or favorites change over the years. In addition to the sheet to go in the file folder for your child's specific grade, be sure to interview your child and fill out the answers to questions so you can recall what once could be a forgotten favorite. Here are a couple already-created questionnaires to simply print and put in your child's specific grade level file.
Take First- and Last-Day-of-School Pictures
One bandwagon every parent needs to jump on is the picture of your kiddo on the first and last day of school. I've seen all my school-age nieces and nephews have these pictures and I love to see the changes…and, of course, the smiles!
Remember the anxiety on the first day of school? Your kids feel it too. What will kids be in the class? Will I know anyone? Will my teacher be nice? Who will sit with me at lunch? Its excitement and nerves all rolled into one! All of that is in the essence of a picture on the first day of school. Take it!
And then on the last day of school, your kids will have changed so much in those nine quick months: lessons learned, inches taller, shoe sizes bigger, haircuts, and new or missing teeth. Take that picture capturing the growth!
My daughter will start Pre-K in the fall and I don't want to forget to take a picture of her in front of the house with a chalkboard or printable of some kind showing the year and the grade she is starting. Then I will take a similar picture of her in the same spot when the school year ends. That's the plan anyway! So much of memory keeping is having an advance plan of action!
Decide Which Art Projects to Purge or Save
I've already saved several "art pieces" from my daughter who is currently four. It's impossible to save everything, but some things just tug at my heart a little more than others. How does a parent decide which pieces of art to keep and which to get rid of?
One online mama suggests keeping a file box of art projects all year and at the end of the year, whittle it down to the favorites to keep.
But if you just can't bear to part with some of them but you can't save every piece, photograph your child's art. Some art is just too big or bulky to keep it physically. Then you at least have it digitally. Consider printing the art on a beautiful metal, canvas, or wood print ()! Decorate your home and office with the artistic visions of your kids. Gifting kid art on functional items is sweet—put it on a mug, a pillow, or a tote bag.
Save Proof of the Evolution of Learning
When I taught first grade, I kept a portfolio of each student to show how the individual's writing had changed throughout the year. Adventures in Kindergarten shows the progression of a student writing over time. Maybe at the beginning of the year, the child wrote in scribbles anywhere on a sheet of paper and by the end of the school year, the student knew to write left to write and start at the top of the paper and work down. And maybe by the end of the year, the child could write most or all the letters while she couldn't at the start. That is something I definitely notice with my daughter and I want to continue to keep a record of. It's pretty precious! I love documenting the learning she's doing!
Every kid will change and once a child is a proficient writer, will we remember the way a child used to write if we don't have the evidence of it? It's totally a personal preference, but just another idea of something to save that shows the growth of your child.
Organize the Captured Pictures of Big Moments
The reasons to take pictures are endless: parties, sporting events, holidays, school plays, weekend fun, vacations, and random shots at home. And the methods of capturing these occasions are many. It's important to stay organized and don't do what I've done and keep every shot. Get rid of the bad ones—the ones you know you will never print. Keep digital files of only the best images and print the ones that really showcase the memory.
If you have your pictures cleaned up, meaning simplified and organized, it'll be easier for you to find and print the pictures that tell the one-of-a-kind story of your family.
Start a Handprint T-shirt for the Class of 20..
My daughter will be a graduate of the Class of 2032! Whoa! Does that sound so far away or what? But, crazily, it'll be here before we know it.
A mom named Christine keeps a blog called Where the Smiles Have Been and she shares this memory t-shirt idea.
Get a t-shirt that your child will likely fit into his senior year of high-school. Leave a spot for a handprint for the next 13 or 14 years and every year make a handprint in the designated spot. It will be worth it for this time-capsule shirt your kiddo could wear so many years from now.
Let's Get Started!
Alright, you fellow parents, I'm feeling motivated to get organized in preparation for the years and years of school memories ahead. Are you? As a mama with a child about to enter the world of school, I'm excited to prepare an organizational system for the memories to come. I want to make my future summers easy and not overwhelming!
Let's have fun making memories, organizing them, printing them, and displaying them so we can relive them again and again.